Comark Marine Displays Approved for Navy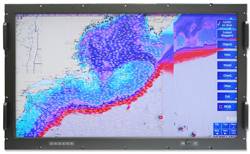 Comark Announces MDU42 Large Screen Marine Display Passes Military Testing.

Comark Corporation, a leader in the design and manufacture of ruggedized computer and display solutions for the marine and military markets, announced the availability of the MIL Certified MDU42. This 42" Marine Display Unit successfully passed MIL-STD 901D, Grade A, Medium Weight Testing; MIL-STD 167- class 1, type A; MIL-STD-810F; and MIL-STD-461E. These certifications are standard requirements for equipment used on Navy Surface ships.

The MDU42 consists of a 42" diagonally-measured, LCD display mounted in a rugged enclosure, capable of continued operation after multiple MIL-STD-901D shock hits. It features a wide viewing angle, LED backlighting, conformal coating on all electronics and an optional touchscreen. The display is serviceable from the front and can be wall, panel or bulkhead mounted. The MDU42 is manufactured in the USA using long-life components, to ensure multi-year availability for long-term marine and military applications, and also complies with Federal BAA (Buy American Act) requirements.

"We have seen a trend towards using larger LCD displays to present information in an intuitive, cognitive manner, frequently consolidating information from several small displays and gauges. Passing military standards testing ensures the MDU42 display has been suitably ruggedized for use on Navy ships," said Steve Schott, President.