Canada PM Warns of Market Disruption from US Steel Tariffs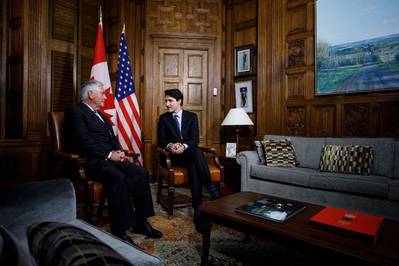 Canada's Prime Minister
Justin Trudeau said
on Friday any U.S. tariffs on steel and aluminum imports would cause significant disruption to markets on both sides of the border, but he was confident his government could defend the industry.
"Any disruption to this integrated market would be significant and serious. But that is why we were impressing upon the American administration the unacceptable nature of these proposals that are going to hurt them every bit as much as they are going to hurt us, and we are confident we're going to continue to be able to
defend Canadi
an industry," Trudeau told reporters at a news conference in Barrie,
Ontario
.
(Reporting by Andrea Hopkins Editing by Chizu Nomiyama)