Djibouti Training Center Build on Pace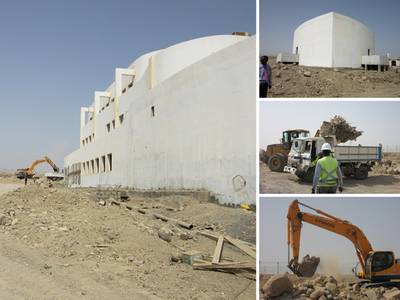 The construction of the Djibouti Regional Training Centre (DRTC) in Doraleh, Djibouti is moving forward in earnest, with a view to completion by the end of September 2015, the International Maritime Organization (IMO) said.
IMO's
Chris Trelawny
and Kiruja Micheni made a site visit Tuesday, July 7, accompanied by Said Nouh Hassan, Secretary-General of the Ministry of Equipment and Transport, Djibouti. During the visit to Djibouti, the IMO team also met Moussa Ahmed Hassan, Minister of Equipment and Transport and representatives of the construction company.
An amended Memorandum of Understanding (MoU) signed between IMO and the Government of Djibouti in June agreed that the DRTC would be completed by October 31 this year prior to an inauguration ceremony no later than November 18.
The center, envisaged as a vital component in the provision of maritime training in the Gulf of Aden and West Indian Ocean region, is being built by the Government of
Djibouti with
funds provided by IMO. The
Government of Japan
is the primary donor.