Oman Drydock Targets LNG Repair Market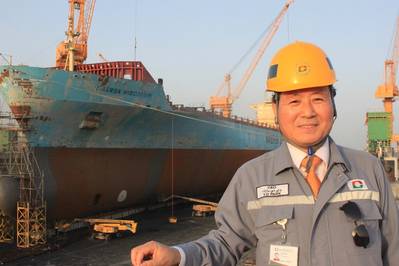 Oman Drydock Company (ODC) is to formally launch a new partnership targeting the LNG carrier repair market at next month's Posidonia trade fair in Greece.

The new package is being launched with DSEC a subsidiary of Daewoo Shipbuilding and Marine Engineering Company Ltd (DSME), which is ODC's official partner.

ODC Chief Executive Yong Duk Park said Posidonia, which is one of the shipping industry's biggest trade fairs, is an ideal location to raise the profile of ODC and the new partnership. ODC has a 52sqm stand in Hall 2 stand 2.217.

"We are very excited about marketing this new package and welcome visitors to our stand to hear about our plans," he said. "Working with DSME we believe we have developed one of the most advanced LNG repair packages in the world. Our new services will cover areas such as cargo containment systems and the supply chain of various materials such as INVAR, insulation boxes, membranes, prefabricated panels and cryogenic safety valves. Meanwhile, we are also investing in new facilities including renovating our cryogenic shop so it can cater to repairing up to four LNGCs at any one time. Our expansion into LNGC will further be strengthened by our new license to support the French engineering firm Gaztransport & Technigaz (GTT) which specialises in cargo containment systems for high-end LNG carriers. "

ODC is one of the newest and biggest shipyards in the world and is based in Duqm Oman's planned new ports and logistics mega city. Following a soft opening in 2011 the $1.5bn shipyard, which is 1.3m sq metres in size, has drydocked more than 230 vessels.

Park said the Greek shipping market is of vital importance to ODC.

"ODC has already delivered repairs for more than 50 Greek owned or operated ships," he said. "We have an important relationship with Dynacom Ship Management helping drydock a number of its vessels including VLCCs. We are further proud to repair the Astro Polaris owned by Maran Tankers which we delivered a day ahead of schedule."

Park said ODC will be looking to increase awareness of its world class facilities and workforce at Posidonia.

"We have worked enormously hard to develop a robust track record working on a wide variety of ships from Very Large Crude Carriers (VLCCs) to container ships to LNG and LPG carriers to chemical carriers dredgers, RO-ROs and barges," he said. "We can now show the shipping industry we not only have world class facilities, which include our massive dry docks which can accommodate any size of vessel, but we have the experience too.

"We know we can deliver on quality, cost and critically time. Our geographical location thrusts us into pole position for the Asia to Europe shipping route as well as the East African and Indian off shore industries. We can further slash costs and the time required for drydocking as vessels do not need to greatly deviate their course. This can save days in time, and a huge amount of money, which is such a key factor for shipping operators balancing tight budgets. Other key selling points include our unrivalled painting services and ability to deal with sludge and slops disposal With painting we have the perfect climate that few other yards can offer. With slops we can save up to three days sailing time as we can deal with it all here on site, there is no need to sail to another location. We intend to market all these benefits hard in the coming months and years."