BAE to Drydock 'USS Wasp'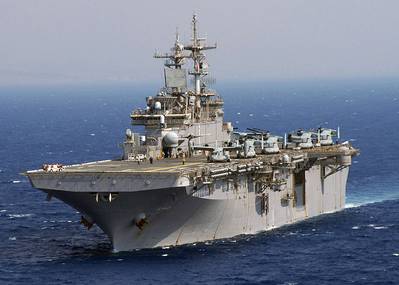 The Department of Defense has issued a $13,895,899 modification to a previously awarded Navy contract to BAE Systems Norfolk Ship Repair, Norfolk, Va., for the warship's dry-docking planned maintenance, which includes maintenance, alterations, and modifications.

Work will be performed in Norfolk, Va., and is expected to be completed by November 2014.

USS Wasp was built by the Ingalls Shipbuilding division of Litton in Pascagoula, Mississippi. She and her sister ships are the first specifically designed to accommodate new Landing Craft, Air Cushion (LCAC) for fast troop movement over the beach and Harrier II (AV-8B) Vertical/Short Take-Off and Landing (V/STOL) jets which provide close air support for an assault force.

Wasp, which is 257 m long (843 ft) with a beam of 32 meters (105 ft), also accommodates the full range of Navy and Marine Corps helicopters, conventional landing craft, and amphibious vehicles.