DSD Sells its Green Ferry to PE Consortium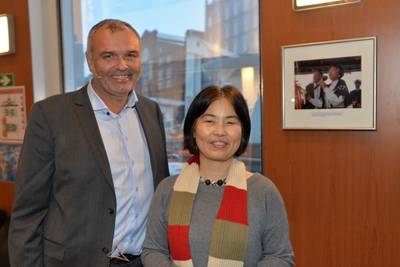 The private Norwegian transport and shipping company Det Stavangerske Dampskibsselskap AS (DSD) has entered into an agreement to sell its ferry- and expressboat company Norled to a private equity (PE) consortium owned jointly by the Nordic infrastructure fund CapMan Infra and the Canadian company CBRE Caledon Capital Management.

"In recent years, Norled has made significant improvements in many areas. The company has succeeded in combining good and stable operations with success in tender biddings and record-high financial results," said Ingvald Løyning, chairman of Norled.

Ingvald added: "At the same time, Norled has undoubtedly consolidated and strengthened its pioneer role in the green shift in maritime industry: First, Norled launched the ferry MF Ampere, "the mother" of all battery ferries, and in 2021 Norled will launch a new icon through the upcoming hydrogen ferry. This environmental technology opens up new, unparalleled opportunities beyond the maritime sector. I am very proud of all the milestones that Norled's employees have created."

"The company now stands at a crossroads. Much of the reason behind Norled's wonderful story is that we have had a good and opportunity-oriented owner. Norled currently has an order backlog of NOK 17 Billion, and has decided to build new vessels for NOK 2.4 Billion. Growing and succeeding with so much new technology and investment is at the same time demanding for a family-owned business. Now the company needs to be given the necessary financial resources that is needed for Norled to grow and develop further to the next phase and towards new goals," said Ingvald.

"The Norwegian ferry industry is a critical part of the country's transportation infrastructure. We believe that the green shift in the industry further highlights sea transportation as a sustainable solution, supporting both the connectivity within and between regions for daily commuters and leisure travellers, while creating jobs and economic growth," said Ville Poukka, Managing Partner at CapMan Infra.

Through the sale, 100 per cent of DSD's ownership interest in Norled AS will be transferred to the consortium of Capman Infor and CBRE Caledon. The parties have agreed that transactional details are confidential. EY has been financial advisor to Norled in the transaction together with the law firm Schjødt.