Eagle Bulk Back in the Black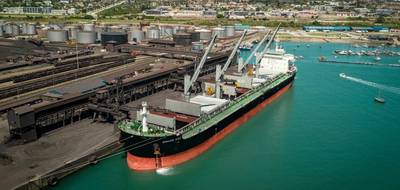 Eagle Bulk Shipping, a US-based fully integrated shipowner-operator engaged in the global transportation of drybulk commodities, has reported a net income of $6.5 million for the three months ended December 31, 2018, compared to a net loss of $16.6 million in the fourth quarter 2017

The Connecticut-headquartered owner of handymax dry bulk vessels said in a stock exchange annoucement that it generated net revenues of $86.7 million, representing an increase of 16% compared to fourth quarter 2017.

Meanwhile, its net revenues for year ended December 31, 2018 stood at $310.1 million, representing an increase of 31% compared to prior year.

Gary Vogel, Eagle Bulk's CEO, said: "We continue to execute on our fleet renewal program with the objective to optimize and modernize the fleet, and during the first quarter of 2019, we have acquired a 2015-built Ultramax and sold two 18 year-old vessels. In addition, we executed a refinancing which has allowed us to continue to strengthen our balance sheet - generating roughly $65.0 million in incremental liquidity, while lowering our cost of debt and extending maturity."

Eagle Bulk has also expanded fleet scrubber initiative, bringing the total number of vessels to be fitted to 37.

"Looking ahead into the first quarter of 2019, the Company has attained a time charter equivalent (TCE) of $9,124 with approximately 90% of the available days fixed for the period thus far," said the statement.