Earlybird 2013 Great Lake Port Arrivals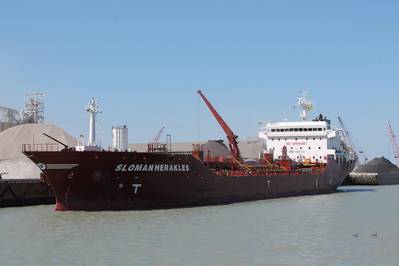 The Port of Indiana-Burns Harbor celebrates the opening of the St. Lawrence Seaway 2013 international shipping season with the recent arrival of two vessels.
On March 22, the St. Lawrence Seaway opened its locks for ocean vessels from around the world to enter the Great Lakes and deliver cargo to U.S. and Canadian ports for the 55th annual international shipping season. The 2,340-mile deep draft waterway is open to ocean vessels from mid-March through December, connecting the Atlantic Ocean to the heart of North America. More than 180 million tons of cargo are shipped through the Great Lakes each year, generating 227,000 jobs and $35 billion in business revenue.

"Some people would consider it a challenge to operate a port 700 miles from an ocean," said Rick Heimann, port director at the Port of Indiana-Burns Harbor. "But the Great Lakes and St. Lawrence Seaway provide Indiana companies with a tremendous advantage by bringing ocean ships right to their doorstep at the crossroads of America. The economic and environmental benefits are tremendous when you consider one ship can haul more than 900 truckloads of cargo."
The first vessel to arrive was the Sloman Herakles on its maiden voyage to North America carrying 12,860 tons of liquid fertilizer for Frick Services. Next to arrive, the Federal Welland will bring 5,100 tons of steel coils from the Netherlands. The ship is owned by the Canadian-based Fednav Group, the largest ship operator on the Great Lakes and parent company to Port of Indiana terminal operator, Federal Marine Terminals. The Fednav group is adding 22 new ice-class bulk carriers worldwide, nine specifically designed for the Great Lakes and many which are designed to consume 20 percent less fuel and produce 20 percent fewer emissions than their predecessors.

"The massive investment our shipping partners are making into Great Lakes vessels demonstrates their confidence in the future growth of this market," Heimann said. "We share their perspective that the Seaway will play an important role in the continued recovery of our nation's manufacturing and agricultural sectors."