Eastern Cuts Steel for Bridgeport-Port Jefferson Ferry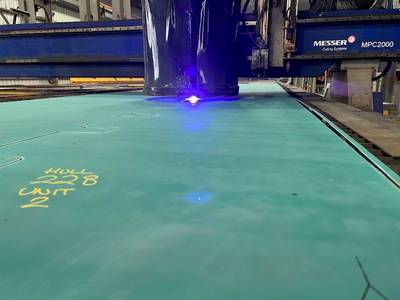 Florida shipbuilder Eastern Shipbuilding Group has cut first steel for a new auto and passenger ferry for the Bridgeport & Port Jefferson Steamboat Company.
The new vessel, designed by Braintree, Mass.-based Gilbert Associates, is being constructed at Eastern's Allanton, Fla. shipyard and is scheduled for delivery in 2024.
The 302-foot Subchapter H auto and passenger ferry will operate between Bridgeport, Conn. and Port Jefferson, N.Y. It will have capacity for 1,000 passengers and 124 cars, or a combination of cars and up to six trucks, and will be capable of operating at 17 knots.
The vessel will be powered by twin EPA Tier 4 Electro-Motive Diesel (EMD) 12 ME 23B, rated 3,000 HP at 900 RPM and driving Reintjes WAF 3445 3.083:1 reduction gears delivering power to fixed pitch propellers.
The ferry will also be equipped with three John Deere 6135 AFM85 diesel generators, rated 300 KW at 1,800 RPM, as well as two Berg Model MTT113 FPL bow thrusters, each driven by John Deere 6135 AFM85 diesels rated 500 HP at 2,000 rpm and coupled to Reintjes WVS 234 1.50:1 reduction gears. Its steering gear is by Jastram.
The newbuild is based on the P.T. Barnum and Grand Republic auto and passenger ferries that Eastern previously constructed for McAllister Towing and Transportation Co, owners of the Bridgeport & Port Jefferson Steamboat Company. Eastern has constructed more than a dozen vessels for its long-time customer McAllister.

(Image: Eastern Shipbuilding Group)