Royal IHC Launches Easydredge 2700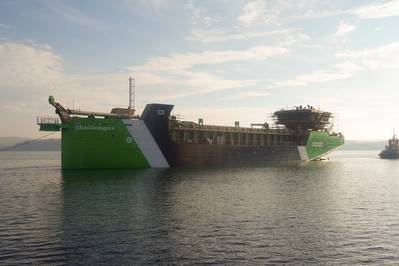 Royal IHC (IHC) has launched the first Easydredge 2700, the first vessel in its range of standard trailing suction hopper dredgers (TSHD) to be delivered in summer 2015. The launch took place at the shipyard of IHC's partner, MTG Dolphin, in Varna,
Bulgaria
.
The new vessel will be supplied with a "world-dredging package", which includes bottom doors, a bow coupling and a dredging depth of 25 meters. This makes her suitable for a wide range of tasks, from the maintenance of ports and channels, to land reclamation.
Fer Tummers, Managing Director of IHC's Dredging Division, said, "The construction of the vessel is going well and is on schedule. We have been encouraged by the extensive interest from the market in our Easydredge range. Building a TSHD for stock has been a logical step forward for IHC and we are convinced that it will bring added value and benefits to our customers, including extremely short delivery times."
Easydredge 2700
Type: Trailing suction hopper dredger
Length overall: 81.75 meters
Breadth: 15.8 meters
Depth: 5.9 meters
Draught at international freeboard: 4.4 meters
Draught at dredging mark: 5.5 meters
Speed: 11.5 knots
Dredging depth: 25 meters
Suction pipe diameter: 700 millimeters
Loading capacity: 3,910 metric tons
Hopper capacity: 2,700 cubic metersm
Daytime accommodation: Eight people