Maritime Economics: Top Five Shipyards by Market Value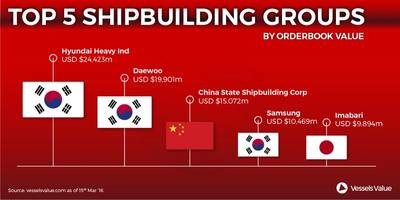 Shown is an infographic courtesy of VesselsValue.com looking at the top five shipyards ranked by the market value of the newbuilding contacts currently on order.
According to Senior Data Editor, Craig Jallal, "The current top five shipbuilding groups have seen a significant decline in value of their orderbooks year-on-year since March 2015.
Hyundai
HI has suffered the largest decline, down by 12%, but fifth-placed Imabari of Japan, enjoyed a 9% increase in the value of its orderbook."