Ocean Economy Set to Double in Size by 2030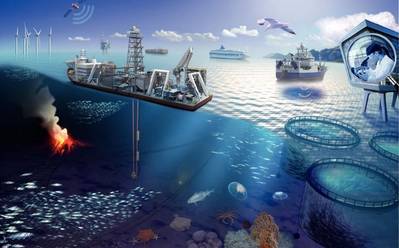 The world's oceans must be managed well to ensure the potential of an "ocean economy" that was worth US $ 1.5 trillion in 2010.
"Calculations based on the OECD's Ocean Economy Database value the ocean economy's output (measured in terms of the ocean-based industries' contribution to economic output and employment) in 2010 at USD 1.5 trillion, or approximately 2.5% of world gross value added (GVA)," says a new Organisation for Economic Co-operation and Development (OECD) report.
With more sustainable development, it can more than double in size to touch over US $ 3.2 trillion by 2030.
"Looking to 2030, many ocean-based industries have the potential to outperform the growth of the global economy as a whole, both in terms of value added and employment. Between 2010 and 2030 on a "business-as-usual" basis, the ocean economy could more than double its contribution to global value added, reaching over USD 3 trillion," the report adds.
Offshore oil and gas accounted for one-third of total value added of the ocean based industries, followed by maritime and coastal tourism,
maritime equipment
and ports.
Direct full-time employment in the ocean economy amounted to around 31 million jobs in 2010. The largest employers were industrial capture fisheries with over one-third of the total, and maritime and coastal tourism with almost one-quarter.
Economic activity in the ocean is expanding rapidly. However, an important constraint on the development of the ocean economy is the deterioration of its health. The ocean has absorbed much of the anthropogenic carbon emissions, leading to ocean acidification.
This report explores the growth prospects for the ocean economy, its capacity for future employment creation and innovation, and its role in addressing global challenges.
Special attention is devoted to the emerging ocean-based industries in light of their high growth and innovation potential, and contribution to addressing challenges such as
energy security
, environment, climate change and
food security
.