Ecopetrol, JX Nippon Team Up to Explore Brazil Offshore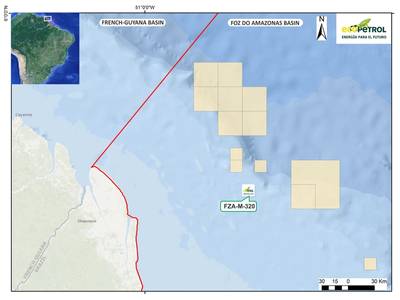 Ecopetrol reports it has established an Alliance with Japan's JX Nippon Oil & Gas Exploration through its affiliate in Brazil, Ecopetrol Óleo e Gás to explore the FZA-M-320 block, located in shallow waters of the Foz Amazonas basin on the equatorial margin of the Brazilian Amazon region.

Ecopetrol has held the exclusive rights for this block since May 2013, which was awarded during the 11th Round carried out by the ANP, the National Petroleum Natural Gas and Biofuels Agency in Brazil.

The commercial agreement announced today, yet to be approved by the ANP, establishes that JX Nippon will undertake exploration of this block with a 30% share, for both exploration investments and potential resources that may be discovered. Ecopetrol will maintain its 70% share and will continue as Operator.

"This Alliance with JX Nippon is in line with our new strategy aimed at positioning ourselves as a Pan-American company, with increased offshore exploration and production presence in Colombia, Gulf of Mexico, Brazil, and at the same time diversifying our participation by allying with world class companies", stated Ecopetrol's President, Juan Carlos Echeverry.

JX Nippon is a company that holds interests in North America, the North Sea, Malaysia, Vietnam, among others.

The FZA-M-320 block is in its first phase of the 5-year exploration period. The partnership is currently designing the seismic survey to be acquired in respect of the block's 192 square kilometer area, in accordance with the commitment made to the ANP.

In Brazil, Ecopetrol also holds interest in the CE-M-715 block within the Ceará basin, in association with Chevron (50%, the Operator) and in the POT-M-567 block within the Potiguar basin.