VSL Invests in Eco-Ships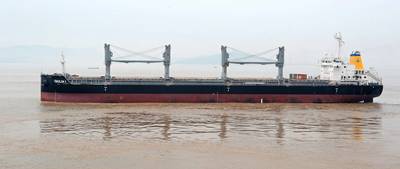 VSL announced that in just over a week its first two eco-newbuildings joined its fleet, with the delivery of the High Sun product tanker in Vietnam (in partnership with d'Amico International Shipping – DIS) and the Giulia I dry-bulk carrier in China.

Thanks to their unique design, the two vessels guarantee average fuel savings and resulting reduction in CO2 emissions of 20-25% (with vessels fully loaded and at a constant speed of 14 knots), the company said.

VSL, which invests exclusively in the shipping and shipping logistics industries, confirms its confidence in the product tanker and dry-bulk markets, and in particular in the new eco-vessels that offer significant benefits compared to conventional ones in terms of performance, and improved access to strong international clients. VSL expects its investments in eco-vessels will lead to attractive returns on capital for its investors.

The technical features of the two vessels will not only help confront the expected increase in fuel costs, arising from stricter regulations on sulphur emissions in ECA (Emission Controlled Areas), but also result in a greater commercial flexibility with access to contracts with first-class charterers, which are not always available for conventional vessels.

"Our partnership with the d'Amico Group – stated Fabrizio Vettosi, General Manager of VSL –allows us to be at the forefront of the highly competitive international shipping market. The investments made, at very interesting prices, will allow us to further develop our business and to create value for our investors in the medium and long-term, securing higher freight rates and likely capital gains".

"Our Group's commitment in VSL continues with great satisfaction – stated Carlos di Mottola, VSL partner and head of Business Development for the d'Amico Group – the delivery of these two new jewels, High Sun and Giulia I, is the crystallisation of this joint-effort. Both projects demonstrate the desire of VSL and d'Amico to explore new frontiers, by adopting new designs and partnering with innovative shipyards. These projects are the result of a long and thorough evaluation of both the expertise of the shipbuilding partners as well as the benefits of eco-vessels".

The Medium Range Product Tanker "High Sun", delivered on 22 May 2014 at the Hyundai-Vinashin Shipyard, has a length of 183 metres, a beam of 32 metres, and 50,000 dwt, while Giulia I was built at Yangfan in China, with 39,000 dwt, a length of 180 metres and a beam of 30 metres.

The role of VSL consists essentially of providing to its subsidiaries and affiliates its know-how in the preparation and validation of business plans, and in monitoring the complex financial aspects typical of the shipping industry, as well as in providing access to professional research tools, through which the decision-making processes is improved.

"VSL is considering how to invest its remaining funds – concluded Vettosi. We are evaluating different opportunities and we will identify our next investment target very shortly. On the Advisory front, we remain active in supporting banks and shipowners in financial restructuring processes. We also aim to support players who are looking to consolidate their market presence in specific niches, such as cabotage and towing".