Rickmers' Maersk Edinburgh Maiden Call in Hamburg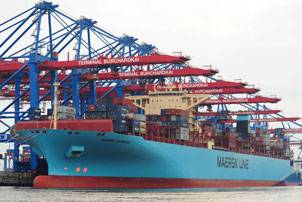 The largest Rickmers ship ever to call in the Port of Hamburg arrived at the Burchardkai Terminal on the late evening of Friday, 13 August. The 13,100TEU Maersk Edinburgh, which was christened Pearl Rickmers by Nina Ruge in South Korea on 2 July, was built for the Rickmers Group by Hyundai Heavy Industries in Ulsan and is now on a ten-year charter to Maersk Line.

In a small ceremony on board, Port Captain Jörg Pollmann presented Capt. Jerzy Priadka with the Admiralty coat-of-arms of the Port of Hamburg to commemorate the maiden call and wished the ship and its crew welcome to Hamburg. The vessel left the port after just 21 hours on Saturday evening, bound for Rotterdam.

Immediately after delivery, Maersk Edinburgh was phased in to Maersk's new joint service with CMA CGM linking Asia and North Europe. As Maersk's AE8 service, it will deploy ten ships of this size, each partner contributing five. The port rotation will be:
Ningbo – Shanghai – Yantian - Tanjung Pelepas - Port Kelang - Le Havre - Hamburg – Rotterdam – Zeebrugge - Port Kelang – Singapore - Ningbo.

By the end of August Maersk Edinburgh will have been joined on this service by three more vessels owned by Rickmers Group with Maersk Emden due to arrive Hamburg on 27 August. This vessel was christened Ruby Rickmers by Cecilia Eckelmann-Battistello, the wife of Thomas Eckelmann, the main shareholder of EuroKai/Eurogate.

Maersk Emden will be followed by Maersk Eindhoven (Aqua Rickmers) on 24 September and Maersk Essen (Coconee Rickmers) on 8 October. Four more 13,100TEU Rickmers vessels will join Maersk Line in 2011.

Technical details of Maersk Edinburgh and her sisterships:
Length, o.a. 1,200 ft
Length, b.p. 1,148 ft
Beam 158 ft
Depth 98 ft
Design draft 47.5 ft
Scantling draft 50.8 ft

Containers are carried 17-wide below deck and 19-wide on the hatchcovers. The maximum capacity of each ship is 7,074TEU on deck and 6,018TEU below deck, making 13,092TEU in total. Based on a homogeneous container weight of 14 tonnes per TEU, the maximum capacity is approximately 9,080TEU. Reefer plugs are available for 800 x 40ft containers.

Each ship is powered by a single Hyundai-Wärtsilä 12RT-flex96C main engine weighing over 2,000 tonnes and developing 68,640 kW (MCR) at 102rpm and 61,776kW (NCR) at 98.5rpm. Five 2,700kw diesel generators are installed.

Although designed for a service speed of 24.3 knots, the flex-engines still achieve 21.5 knots at 60% of the engine's normal output but can also slow steam as required under charterers' current service patterns, generating substantial fuel savings. By having this substantial speed reserve, the ships can increase speed when necessary to maintain schedule integrity, an important factor in a service industry.