Ellicott Dredges Receives Four Awards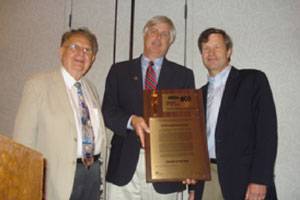 Ellicott Dredges, LLC-a unit of Ellicott Dredge Enterprises, LLC-and its management have recently received multiple awards from international and national organizations for its technical innovations, leadership in the dredging industry, organizational growth, and community contributions.

Ernst & Young, one of the "Big Four" accounting firms, has announced that Ellicott Dredges' President Peter Bowe is the recipient of its 2009 "Entrepreneur of the Year" award for Maryland in the manufacturing category.

An independent panel of seven judges selected Bowe from the nominee pool. Bowe is now eligible to compete for the National Entrepreneur of the Year award to be decided in Palm Springs, California this November at Ernst & Young's Strategic Growth Forum.

The Western Dredging Association and its over 4,000 members named Ellicott's President Peter Bowe as the 2009 "Dredger of the Year." WEDA Executive Director Larry Patella and outgoing WEDA President Bill Hanson presented the award at WEDA's annual meeting in Phoenix, Arizona.