PHA, Maersk $1.5m EPA Grant for Emissions Reduction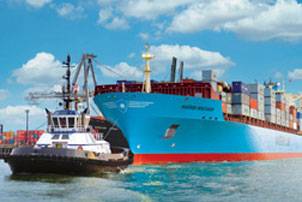 The Port of Houston Authority and Maersk Line, which partnered with the U.S. Environmental Protection Agency (EPA) on the first-ever low-sulfur "fuel switch" demonstration on a container ship in the Gulf of Mexico last November, have been selected to receive a nearly $1.5m grant from the National Clean Diesel Program.

Funded by the National Clean Diesel Emissions Reduction Program, the grant will pay the differential costs incurred when Maersk Line vessels switch from high-sulfur bunker fuel to lower-sulfur marine diesel while approaching Texas waters. The Maersk Line vessels call at the APM Terminal located at PHA's Barbours Cut complex.

The program is set to begin in August with 19 Maersk Line vessels scheduled to participate. Once those vessels are within 24 nautical miles of the Texas coast, they will switch to lower-sulfer fuels. The cleaner marine diesel fuel will contain no more than 0.2 percent sulfur, compared to the 2.7 percent sulfur contained in regular bunker fuel.

The fuel-switching program is set to run until March 31, 2012. The total emission reductions from this project are expected to be:
• 35 tons of nitrogen oxides (NOx)
• 50 tons of particulate matter with a diameter of 10 micrometers or less (PM10)
• 46 tons of particulate matter with a diameter smaller than 2.5 micrometers (PM2.5)
• 441 tons of carbon dioxide (CO2)
• 1,353 tons of sulfur dioxide (SO2)

These emission reductions will improve local air quality and public health in the Houston-Galveston-Brazoria non-attainment area.

While fuel switching is prevalent along the West Coast, this project will be the first of its kind in the U.S. Gulf and specifically involving the Port of Houston Authority. The program is also the latest initiative launched under the port authority's Clean Air Strategy Plan (CASP), an outreach and implementation plan demonstrating the port authority's commitment to environmental stewardship, air quality improvements, and sustainability.

The fuel-switching program will be in place prior to implementation of the North American Emission Control Area (ECA), an effort which the Port of Houston Authority has supported. On March 26, 2010 the IMO officially designated waters off North American coasts as an area in which stringent international emission standards will apply to all ships. Starting in August 2012, the ECA will require that the sulfur content in fuel be no greater than 1.0 percent. By 2015, all ships operating in the designated ECA will be required to use 0.1 percent sulfur marine fuels.

According to the EPA, by 2020 the ECA is projected to result in the reduction of as many as 14,000 premature deaths, provide relief from respiratory symptoms for nearly five million people each year, and provide more than $110 billion in health-related benefits.