Christophe de Margerie Named Engineering Project of the Year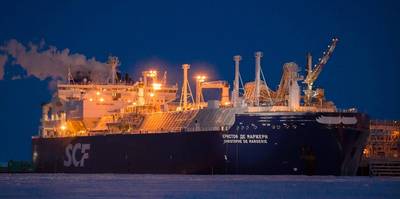 Christophe de Margerie, the icebreaking LNG carrier built to order for SCF Group (Sovcomflot) to serve the Yamal LNG project, has won the award for Engineering Project of the Year at the 2017 S&P Global Platts Global Energy Awards. The winners were announced at an award ceremony held in New York on 7 December 2017.
At the award ceremony, SCF Group was represented by Executive Board members Nikolay Kolesnikov, Executive Vice President and CFO of Sovcomflot, and Sergey Popravko, Managing and Fleet Director of SCF Management Services, who was closely involved in establishing and expanding the gas fleet of SCF Group.
Nikolay Kolesnikov commented: "I stood here ten years ago when Sovcomflot received the Platts Energy Transporter of the Year Award. At that time our competition came from power grid and pipeline companies, so we viewed the award as recognition of the critical role that international shipping plays in providing safe and reliable seaborne transportation of energy across the world. To date Sovcomflot remains the first and only shipping company to have received that award."
He added: "The fact that our award today is for Engineering Project of the Year reflects the evolution of Sovcomflot over the past ten years, and its transformation into a diversified marine energy services company capable of undertaking challenging and complicated projects, and of providing higher value-added services and tailored seaborne solutions to its
energy clients
."
Christophe de Margerie is the first in a series of 15 icebreaking LNG carriers ordered for the Yamal LNG project, to transport LNG year-round in the challenging ice conditions of the Kara Sea and Gulf of Ob. Her appearance signalled the market debut for Yamalmax ships, a new class of vessel.
The vessel is capable of sailing independently through ice of up to 2.1 metres thick. She has been assigned an ice class Arc7, the highest ice class amongst existing merchant vessels. The power of her propulsion system is 45 MW, which is comparable to the capacity of a modern nuclear-powered icebreaker. In August 2017, she became the world's first merchant vessel to travel the full length of the Northern Sea Route (NSR) safely, without any icebreaker escort, while also setting a new time record for an NSR transit of just 6.5 days.
On top of being recognised for the 2017 Engineering Project of the Year, Sovcomflot was named a finalist in three more categories at the 2017 S&P Global Platts Global Energy Awards: Deal of the Year – Financial; Industry Leadership – LNG; and Industry Leadership – Midstream. This is a record number of finalist positions in one year for SCF Group.