Top Engineering Employer – Tognum Wins Again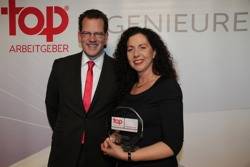 Tognmum wins top engineering sector employer in Germany award for the fourth time
Tognum has picked up the accolade 'Top Engineering Employer' for the fourth time running. It also won the seal of quality 'Top Employer in Germany' for the third time. This year, a total of 34 companies in Germany were named the most attractive engineering employers, and a total of 118 qualified for the 'Top Employer in Germany 2012' category.

As 'Top Employer in Germany 2012' and 'Top Engineering Employer', Tognum gained the highest grade for its attractive financial benefits such as salary and pension schemes. For 'secondary benefits' such as working hours and work-life balance, as well as for its training and development portfolio, career opportunities and corporate culture, Tognum was rated 'very good' to 'excellent'. Overall, Tognum succeeded in improving on last year's performance in almost all categories.

"We encourage the development of our staff and give them recognition," said Joachim Coers, CEO of Tognum AG. "The fact that we have continued to be distinguished as an attractive employer shows that our commitment also sets the standard."

The CRF is an international institute that officially recognizes as 'Top Employer' companies across all industries in Germany that demonstrate excellent personnel management. For the fifth time now, it has also awarded a separate distinction to the most attractive employers in the field of engineering. That allows university graduates embarking on their careers to make a guided choice when looking for a suitable employer. With its international trainee scheme, Tognum prepares them for taking on challenging tasks in a globally operating company.

'Top Employer' is not the only accolade to have been scooped by Tognum for its personnel management policies. It also figures among the favorite employers of young engineers and reached 55th place in the 'Top 100' list for that category compiled by Universum, the employer-branding specialist.