Diesel Engines for China Market – Majors Set Up New Company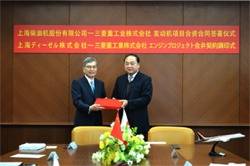 MHI, Shanghai Diesel Engine, to set up company to manufacture & market industrial diesel engines for the Chinese market
Mitsubishi Heavy Industries, Ltd. (MHI) and Shanghai Diesel Engine Co., Ltd. (SDEC), a major Chinese diesel engine manufacturer, have signed an agreement to establish Shanghai MHI Engine Co., Ltd., to manufacture and market diesel engines in China. The aim of the new joint venture is to make a full-fledged entrance into the rapidly expanding Chinese market for industrial-use diesel engines and to build up market share through more competitively priced products.
The JV is scheduled to begin manufacturing and marketing in December of this year. Shanghai MHI Engine will be capitalized at 200 million yuan (approximately 2.5 billion yen). Ownership will be divided equally between MHI and SDEC. The new company, to be headquartered in Shanghai, will target annual sales of 10 billion yen in the first few years and intends to boost this figure to 20 billion yen thereafter.

The JV will manufacture industrial-use diesel engines with power outputs in the 500 to 1,600 kW range under a manufacturing and marketing license from MHI. The JV's procurement, marketing and after-sale service will take advantage of SDEC's vast domestic network.

MHI has for some time been seeking to build up its share in the rapidly expanding Chinese market, while SDEC has been aiming to launch a full-scale entry into the market for industrial-use diesel engine with outputs of over 500 kW. The interests of the two companies thus meshed and led to the conclusion of the joint venture agreement.

A long-established Chinese manufacturer of diesel engines with some 3,300 employees, SDEC is an affiliate of Shanghai Automotive Industry Corporation (SAIC), the largest automobile manufacturer in China. SDEC's 100 to 500 kW high-speed diesel engines for construction machinery, power generation and marine use hold a large share of the market.