Crowley Receive Port of Seattle Environmental Award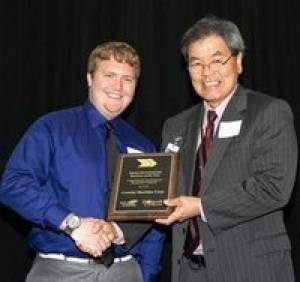 Crowley Maritime Corp was recently honored with the Marine Environmental Business of the Year Award during the 62nd Annual Maritime Festival Luncheon in Seattle.

Crowley's Gordon Brink, administrative assistant, harbor ship assist and tanker escort services, accepted the award from the Port of Seattle's CEO Tay Yoshitani on behalf of the company.
Each year the award is granted to a company that demonstrates environmental initiative and leadership through its commitment to helping the Port of Seattle maintain a low-carbon footprint. Crowley received the award for demonstrating a strong culture of environmental stewardship through its initiatives to keep Puget Sound and other bodies of water clean.

The company's early interest in keeping harbors and oceans clean has developed into a strong company culture of EcoStewardship . Recent examples of the company's environmental work include: the repowering of the company's tugboat Tioga, in the Pacific Northwest, and the Goliah, in Northern California, to meet Tier III emission standards a year ahead of government requirements; certification to the international standard ISO 14001 Environmental Management System; and the construction of the first two double-hulled, environmentally friendly barges to serve Western Alaska.

"We are thrilled to be recognized once more for our past and ongoing environmental stewardship efforts," said the company's Scott Hoggarth, general manager, harbor ship assist and tanker escort services. "For Crowley, the effort to protect and improve the environment is not only a company-wide endeavor, but a way of life. We are proud to be a part of this select group that strives to make the world a greener place."

Crowley say they have twice been named runner up for the award, first in 2010 and again in 2011.