Epic Gas Refinances Two LPG Tankers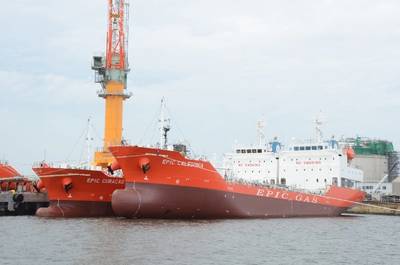 Singapore-based gas carrier owner and operator Epic Gas has completed the refinancing of two 2010-built liquefied petroleum gas (LPG) tankers.

The two ships – the Epic Bali and Epic Borneo (each 2010 built, 7200 cbm) - were both in a finance lease structure and Epic Gas exercised a purchase option to refinance the vessels through a sale and lease back transaction with a Japanese ship owner, a press release from the fully pressurized gas carriers providing seaborne services for the transportation of LPG and petrochemicals.

The bareboat charter back term is 10 years, with a purchase option from year five, it said.

This transaction has reduced Epic Gas's interest and amortization by US$1.3m p.a. (total for both ships), it added.

Uta Urbaniak-Sage, CFO of Epic Gas, said: "Today's transaction reflects our ongoing efforts to continuously optimize our cost of financing, driving out unnecessary cost wherever possible."

Epic Gas controls a fleet of 44 vessels which serve the international supply chains of leading oil majors and commodity traders throughout Asia, Europe, Africa and the Americas.