Antarctic Evacuation of Scientists as Storm, Ice, Threatens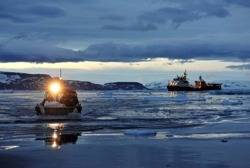 Antarctic patrol ship evacuates research team from remote James Ross Island as ice pack threatens
The Portsmouth-based UK survey ship HMS Protector was charged with putting a small team from the British Antarctic Survey ashore so they could collect geological samples on remote James Ross Island off the eastern tip of the Antarctic Peninsula.
After four days on James Ross Island, the decision was made to pull the scientists out much earlier than anticipated – a change of wind direction meant there was a chance ice from the Weddell Sea would be driven towards James Ross Island – potentially blocking HMS Protector in,
Protector's Commanding Officer Capt Peter Sparkes decided the safest and least risky option would be to sail through the ever-increasing pack ice and send in the Terra Nova, fast rescue craft Yelcho and the inflatable boat, Whiskey 1 to bring the scientists off. He reported that: HMS Protector then managed to break through some densely consolidated pack ice in the Erebus and Terror Gulf at night and into relatively safer waters."

The scientists were extracted with all kit and were safely back aboard the ship within 90 minutes of the first boat entering the water.
Having experienced some extremely-challenging ice-breaking conditions, Protector has resumed her survey work around the frozen continent.