Mega-size Container Cargo Ship Arrives at Port Everglades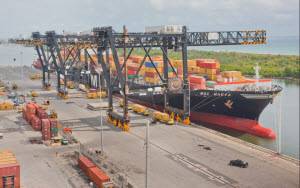 A mega-size cargo ship, the largest container cargo ship in the history of Port Everglades, arrived in South Florida this morning carrying cargo from Northern Europe to South Florida.

Mediterranean Shipping Company's MSC Maeva - a 1,066-foot-long, 140-foot wide, 89,954-gross-registered-ton containerized cargo ship - is the first of three ships in its class that will carry cargo to and from Port Everglades as part of a weekly ocean shipping service. Previously, the largest container ships to call at Port Everglades were from an MSC vessel class of 997 feet long and 73,819 gross registered tons.

Equal to the size of an aircraft carrier, MSC Maeva and her sister ships , MSC Lucy and MSC Charleston, when fully loaded can carry 8,089 TEUs (20-foot equivalent units, which is the standard measurement for cargo containers). The previous class carried 6,402 TEUs when fully loaded.

"We have been saying for years that cargo ships are getting larger and more efficient," says Port Everglades Director Phil Allen. "Our 20-Year Master/Vision Plan recognizes that Port Everglades will need to widen and deepen its channels to handle fully loaded ships of this class and even larger ships once the Panama Canal expansion is completed in 2014."

MSC and its terminal operator Port Everglades Terminals LLC (PET) is the second largest container shipping terminal at Port Everglades moving more than one-million tons and 106,609 TEUs of cargo in Fiscal Year 2010 (October 1, 2009 through September 30, 2010).

Port Everglades is one of the nation's leading container ports and a trade gateway to Latin America and Caribbean. Port Everglades has direct access to the interstate highway system, is within two miles of the FEC rail hub and is just one mile from the Atlantic Shipping Lanes. Ongoing capital improvements and expansion, including widening and deepening the Port's entrance channel and waterways, ensure that Port Everglades will have the ability to handle future growth in container traffic. A world-class cargo handling facility, Port Everglades serves as an ideal point of entry for products shipped around the world.

Source: Port Everglades