Russian Warship to Exercise off Syria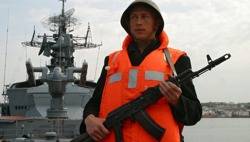 Russian guided missile destroyer 'Smetlivy' to exercise off Syria's Mediterranean coast
A Russian warship will dock at the Syrian port of Tartus before planned exercises off the country's Mediterranean coast. The Smetlivy guided-missile destroyer will remain in the western Mediterranean through May.
Smetlivy is the last Kashin-class destroyer in the Russian Navy. The ship returned to service after repairs in 2011. Its armament includes two 76-mm AK-726 guns and a SS-N-25 Switchblade anti-ship missile system.
There has been an increased presence of NATO warships in the region since the uprising against the regine of President Bashar al-Assad began in March last year.
The UN says more than 9,000 people have been killed in Syria's crackdown on the protests. The Damascus government insists it is combating "armed terrorist gangs" who are seeking to destabilize Syria.