South China Sea Exercises Joined by LCS1 'USS Freedom'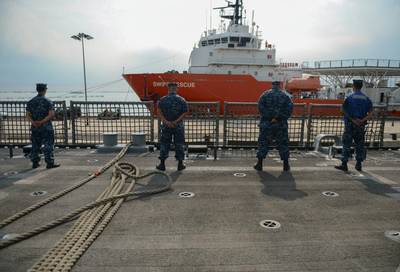 The littoral combat ship 'USS Freedom' (LCS 1) is participating in the Southeast Asia Cooperation and Training (SEACAT) exercise with several regional navies, including Brunei, Indonesia, Malaysia and Singapore. 

SEACAT highlights the value of information sharing and multilateral cooperation in scenarios that give participating navies hands-on practice in maritime security operations. 



Freedom's participation includes several boarding events conducted with her embarked visit, board, search and seizure (VBSS) teams, 11-meter rigid hull inflatable boats (RHIB) and MH-60R helicopter. A team of trainers from Maritime Civil Affairs and Security Training (MCAST) will evaluate participating boarding teams.



"We expect a lot of valuable training as we work with regional navies to strengthen VBSS capabilities and enhance interoperability," said Freedom's Commanding Officer Cmdr. Pat Thien. "This exercise is tailor-made to showcase Freedom's speed, maneuverability, shallow draft and surface warfare mission package while deployed to Southeast Asia."


USS Freedom departed on her maiden overseas rotational deployment to Southeast Asia March 1, 2013. SEACAT is one of the key exercises and exchanges with regional navies taking place during Freedom's deployment. Since arriving in the region, Freedom has also participated in Singapore's International Maritime Defence Exhibition, and two phases of the bilateral exercise Cooperation Afloat Readiness and Training (CARAT) - CARAT Malaysia and CARAT Singapore.