Panama Canal Expansion Should Slice US Grain Freight Rate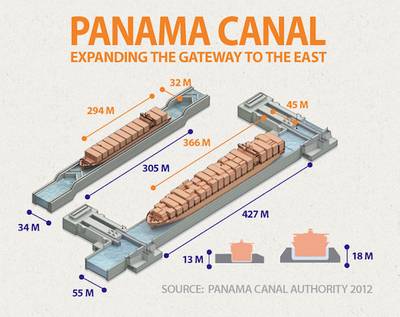 Upon completion of the expansion of the Panama Canal, the cost to transport grain from the U.S. corn belt to Asia will drop by an estimated 12%, thus increasing the cost competitiveness of the U.S. as a grain exporter to Asia, Rabobank forecasts.
In a new report, "Panama Canal: Expanding the Gateway for U.S. Grain to the East," Rabobank says the expansion of the Canal will accommodate grain-laden ships from the U.S. of 25% more capacity than before, resulting in a shift in U.S. grain shipping routes that doubles the draw area west of the Mississippi River for exports through the Panama Canal.
Rabobank predicts the decline in shipping cost, coupled with the increased capacity, will help ports along the U.S. Gulf to regain export volume lost to ports in the Pacific Northwest over the last decade, and also benefit large grain traders and exporters with operations in the U.S. Gulf region. Ocean freight accounts for 60% of total shipping cost, so increased shipping capacity has a material effect on cost savings.

"The Panama Canal expansion is great news for American competitiveness," said Will Sawyer, Analyst with Rabobank's Food & Agribusiness Research and Advisory group, and author of the report. "Whereas nearly 80% of U.S. grain exports went through the U.S. Gulf a decade ago, demand growth in Southeast Asia and increased efficiencies at U.S Pacific Northwest ports have reduced that market share to between 60% and 65% currently. The Canal expansion and resulting decreases in shipment cost and time will greatly improve the cost position of the U.S. vis-à-vis Brazil, Argentina and other grain exporting countries in Eastern Europe."

"The expansion is also positive for U.S. Gulf ports," Sawyer continued, "as the doubling of the draw area in Minnesota, Iowa and Missouri will allow U.S. Gulf ports to take back much of the export share lost to the Pacific Northwest over the past 15 years. Most of this shift will be driven by increased corn exports through the U.S. Gulf, reversing the recent trend."

Source: Rabobank (www.Rabobank.com)