Milaha Eyes Global Expansion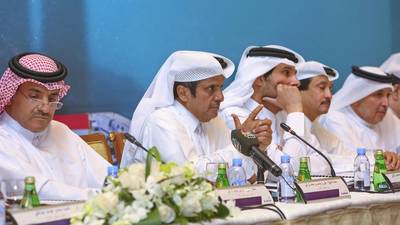 Qatar Navigation (Milaha) is planning to expand operations and capabilities in Qatar and overseas as part of its long term plan to improve efficiency and profitability.
During the
General Assembly meeting
, Sheikh Ali bin Jassim bin Mohammad Al Thani, Chairman of Milaha's Board of Directors presented an overview of the company's activities and financial results for 2017 along with highlights of business plans for the year 2018.
"The Chairman underlined the impact of industry-wide and geopolitical challenges on the company's financial performance, adding that "signs of recovery are visible, and we are hopeful this will continue in 2018," Al Thani added.
The Chairman praised the company's "adaptability and resilience" in the aftermath of the Gulf crisis as it launched new direct shipping services to Oman,
Kuwait
, India, Pakistan, and Turkey, and deployed additional assets to mitigate the impact of the crisis on Qatar's supply chain.
Highlighting the company's achievements in 2017, the Chairman said: "Among our strategic milestones in 2017 is the launching of QTerminals, the ports and terminals operator, jointly with Qatar Ports Management Company (Mwani Qatar) to manage the first phase of
Hamad Port
. The port has achieved record numbers in cargoes and volumes handled in 2017 as post-blockade seaborne trade almost tripled from previous averages.
Additionally, we soft launched the first phase of Milaha Logistics City, which marks our entry into cold chain solutions. The new facility will enhance Milaha's standing as a leading provider of logistic services as well as Qatar's position as a vital regional hub for maritime shipping and logistics."