Baltic Index Extends Winning Streak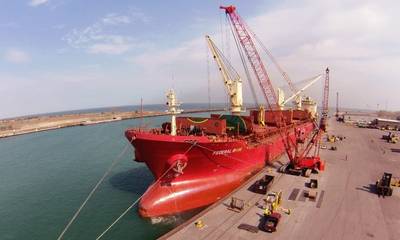 The Baltic Exchange's main sea freight index, tracking rates for ships carrying dry bulk commodities, continued its recovery on Friday driven by improved rates for panamaxes and smaller vessels.

The overall index, that gauges the cost of shipping resources including iron ore, cement, grain, coal and fertiliser, was up seven points or 2.05 percent, at 349 points.

The index, which touched an all-time low of 290 points on Feb. 10, has since registered gains in 16 successive sessions to rebound by over 20 percent.

The panamax index rose 12 points to 386 points. Average daily earnings for panamaxes, which usually carry coal or grain cargoes of about 60,000 to 70,000 tonnes, rose $94 to $3,098.

Among smaller vessels, the supramax index gained 8 points to 371 points, while the handysize index was up five points at 232 points.

Meanwhile, the capesize index continued to explore new all-time lows, shedding two points to 164 points.

Average daily earnings for capesizes, which typically transport 150,000-tonne cargoes such as iron ore and coal, fell $15 to $2,221.

The dry bulk market is expected to remain under pressure due to weak demand for commodities, particularly from top global importer China.
Reporting by Vijaykumar Vedala