Fairfax Financial Invests Additional USD 500mln in Seaspan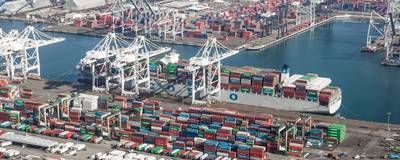 Containership owner operator Seaspan Corporation has announced that Fairfax Financial Holdings Limited, through certain subsidiaries, has entered into a definitive agreement to invest an additional $500 million of equity in Seaspan through the exercise of two tranches of warrants, increasing Fairfax's total investment in Seaspan to $1 billion.
David Sokol, Chairman of Seaspan Corporation, commented, "Our Board of Directors and management team are excited by this transformative investment, which will further bolster Seaspan's strategy to lead consolidation in the fragmented containership sector and capitalize on the most compelling opportunities in the shipping sector and beyond it."
"Building on our acquisition of Greater China Intermodal Investments and existing partnership with Prem Watsa and Fairfax, the cumulative investment of $1 billion from Fairfax will also significantly strengthen Seaspan's balance sheet, significantly improve access to capital and accelerate our progress toward achieving an investment grade credit rating," he added.
"With foundational, long-term oriented partners like Fairfax and the Washington family, we have the opportunity to build on our industry-leading position to drive growth and sustainable shareholder value creation for many years to come," David concluded.
"Seaspan has a strong leadership team with a compelling vision and laser focus on execution," said Prem Watsa, Chairman and Chief Executive Officer of Fairfax.
Prem added: "As the global containership industry continues to consolidate, we believe owner-operators like Seaspan, with financially sound balance sheets, will have excellent growth prospects. We are excited about Seaspan's outstanding progress over the past six months, and with David Sokol's proven capital allocation and shareholder value creation credentials, we are thrilled to expand our relationship. This transaction represents one of Fairfax's largest investments in a public company, which is a clear indication of our respect for David Sokol and Dennis Washington."
Bing Chen, President and Chief Executive Officer of Seaspan, stated, "We are honored by Fairfax's transformative series of investments in Seaspan, totalling $1 billion, over the past five months. We remain focused on deploying capital in a disciplined and value-enhancing manner, and pursuing opportunities that best serve our customers and create meaningful returns. The support of Fairfax, the Washington family and our other long-term shareholders is instrumental for us to execute on our strategy and create lasting value for all shareholders."