NOAA's Fairweather Maps Bering Straits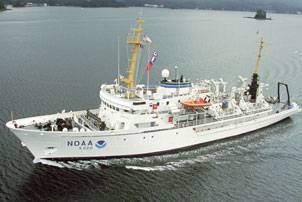 Responding to a request from the U.S. Navy, U.S. Coast Guard, Alaska Maritime Pilots and the commercial shipping industry, NOAA sent one of its surveying vessels, NOAA Ship Fairweather, to detect navigational dangers in critical Arctic waters that have not been charted for more than 50 years.

Fairweather, whose homeport is Ketchikan, Alaska, will spend July and August examining seafloor features, measuring ocean depths and supplying data for updating NOAA's nautical charts spanning 350 square nautical miles in the Bering Straits around Cape Prince of Wales. The data will also support scientific research on essential fish habitat and will establish new tidal datums in the region.

Fairweather is part of the NOAA fleet of ships and aircraft operated, managed and maintained by NOAA's Office of Marine and Aviation Operations, which includes commissioned officers of the NOAA Corps and civilian wage mariners.