Families of Missing in Greece Migrant Boat Disaster Plead for Recovery of Bodies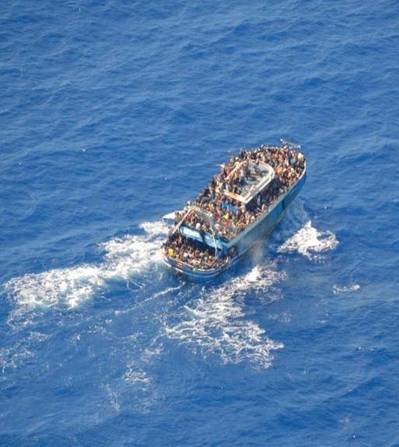 Since Matloob Hussain from Pakistan went missing during a deadly shipwreck off Greece last month, his brother Adil has left the door of his Athens home open in the hope he appears. It will stay open until his body is found.
Matloob, 43, is among hundreds of migrants from Pakistan, Syria and Egypt who are presumed dead after their overcrowded fishing trawler, that set sail from Libya for Italy, sank off the coast of Pylos in international waters on June 14.
A total of 104 men were rescued and 82 bodies were found. But with survivor accounts suggesting as many as 750 people were on board, several families are calling on authorities to raise the wreck from the seabed and recover the bodies of scores believed to have been trapped in the hold.
"They must take out the people who are inside. If they are dead, take them out," Adil Hussain said, urging Greece to hire a vessel to recover them.
"We will sell our houses, we will borrow money, if the state can't. Just give me the body."
Greek government officials said last month that the chances of retrieving the vessel were slim due to the depth - around 5,000 metres - to which it sank.
Hussain said his brother was crammed with others below deck in the boat's refrigerator, according to a survivor who recognised him.
"All of us - my mother, my father, my brother's wife - we want to know, is he dead or alive? If we don't find his body, we'll leave the door open for the rest of our lives," he said through tears.
"I will wait in Greece for my brother."
Hussain has worked as a gardener in the country since 2007 after a perilous journey of his own via Turkey.
Lawyers representing families of the missing plan on Thursday to ask judicial authorities investigating the case for the boat to be retrieved.
"It is a fundamental obligation towards the victims who are at the bottom of the sea, an obligation towards their families, and of the families towards their loved ones," Takis Zotos, a lawyer representing four Pakistani families, told Reuters.
Lamenting a lack of interest in the wreck compared to the expensive rescue operation launched for the missing Titanic submersible and its billionaire passengers that drew huge global attention, Zotos said the contrast was "grotesque."
"If we compare people as units, we are talking about five compared to 600," he said.
"But they are the wretched of the earth down there. They also had the misfortune of being shipwrecked in the deepest part of the Mediterranean."
Debris from the Titanic submersible was found by a robotic deep-sea diving vehicle that was sent to scour the Atlantic ocean floor more than 3,000 metres below the surface. Last week presumed human remains were found and recovered from the ocean bottom.
WAIT FOR IDENTIFICATION
Matloob was the first of the two brothers to migrate to Greece in 2005 but after living undocumented for years, he returned to Pakistan two years ago. He struggled to get by and decided to leave again, this time for Italy, borrowing $7,000 from friends to pay for the trip.
Hussain urges his family not to come illegally, even when they tell him they have no food or work in Pakistan.
"I say it's better - you're alive. If you come this way, you will die. And if you die, everyone dies."
So far, around 350 DNA samples have been collected from relatives in Greece or sent from abroad, most from Pakistan, a senior official involved in the process told Reuters.
Just over 20 bodies out of 82 have been identified so far, according to the official, who spoke on condition of anonymity as the investigation is confidential under Greek law.
The Greek government was not immediately available for comment on the progress of the identification process.
The causes of the shipwreck are still being investigated. Survivors have said that the ship capsized after a disastrous towing attempt by the Greek coast guard, which Greece denies.
Three weeks since the boat sank, the search operation is now being conducted mainly by commercial vessels asked by Greek authorities to monitor the area, a coast guard official said.
The bodies of the victims remain in refrigerators, the chief coroner told Reuters. Hussain is still waiting to hear if his DNA is a match.
Alam Shinwari, an official at Pakistan's Federal Investigation Agency (FIA) said Pakistan last week sent to Greece over 200 DNA samples from family members and more would be collected. Pakistan has also sent fingerprints.
A spokeswoman for Pakistan's Foreign Office, Mumtaz Zahra Baloch, said bodies would be transported to Pakistan upon verification and release by the Greek authorities.
Muhammad Ayub, 55, whose brother Muhammad Yasin, 28, was on the vessel, said he was hoping his brother's body would be identified after his two young children gave DNA.
"At least we may know his fate or get his body back, so we can tell these kids that your father was in an accident, this is his grave," he said.
(Reuters - Additional reporting by Lefteris Papadimas and Renee Maltezou in Athens and Gibran Peshimam in Islamabad, Editing by Alexandra Hudson)