Cape Fear Federal Pilots Launch New Boat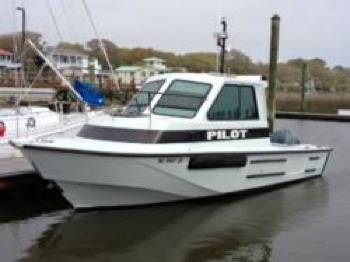 Cape Fear federal pilot launches its first pilot boat and welcomes its latest customer, US Shipping Corp.
After years of using a hired launch vessel for boarding ATB's, tugs and ships at the entrance to the Cape Fear River, the Cape Fear Federal Pilots recently launched its first pilot vessel.

River pilot Tony McNeill, who operates the pilotage service for the Port of Wilmington NC for U.S. coastwise and military vessels says, "It's an exciting time for the company and due to the increase in business in the past couple of years, having my own pilot boat was a must have for the company."

The boat is Boston Whaler Challenger that Tony has had for a couple of years but has waited for the appropriate time to put it to work.
Pilot McNeill informs that In addition to the new boat, U.S. Shipping Corp. has been added to the growing number of customers the company already provides pilotage for in the port. These include Penn Maritime, Kirby Offshore, Vane Brothers, Reinauer Transportation and OSG.

"I believe in going the extra mile for my customers when they are making port calls in Wilmington. Not only for the crews of the vessels but also handling arrangements of different services in port for the vessels that their companies dispatch department would normally have to do. I guess I'm the pilot and the shipping agent in all in one," Tony states.