Resolve Completes Federalized Wreck Removal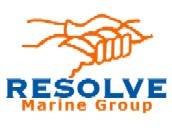 Resolve Salvage & Fire, the salvage, emergency response and wreck removal subsidiary of Resolve Marine Group, Inc., has completed the removal of the grounded 202-foot freighter Jireh from Mona Island.
Mona Island lies 35 miles off the western coast of Puerto Rico and is a 22- square-mile ecological reserve managed and protected by Puerto Rico's Department of Natural and Environmental Resources (DRNA). Resolve worked closely with the Unified Command -- comprising U.S. Coast Guard (USCG), the DRNA, the Puerto Rico Environmental Quality Board and other federal, state and local response personnel -- to remove the freighter from the island.

The Jireh ran aground on June 21, 2012 with 84 passengers and crew onboard. The cause of the grounding remains unknown. After attempts to locate the captain and owner failed, the salvage operation was federalized by the USCG. Resolve, an OPA-90 Salvage & Marine Firefighting resource provider, was selected by the USCG to contain any possible oil pollution at the grounding site. Resolve first removed more than 5,000 gallons of oil/water mix and 600 tons of oiled cargo from the freighter. The Resolve team then began cutting and removing sections of the ship to reduce the weight in preparation for refloating the 500-ton vessel. However, according to USCG Captain Drew Pearson, the federal on-scene coordinator for the response, "The deteriorated condition of the ship's hull did not allow the vessel to be refloated. Operations involved cutting the remaining hull into sections that were removed and transported to a recycling facility for final disposal."

"Response crews worked diligently, rapidly and safely to complete the removal of this vessel and prevent it from further impacting the environment. Once the freighter was removed, it was possible for our Natural Resource Trustees to perform final damage assessments. Now, proper restoration can begin, ensuring that the environmental damage from this grounding is mitigated," said Capt. Pearson.

NOAA crews are reattaching and transplanting corals that were at risk from the grounding. The transplanted corals are expected to have a high survival rate. A NOAA-authorized biologist is on site during all coral relocation operations to ensure proper handling and successful reattachment to the reef. Depending on conditions at the grounding site, the coral colonies may be returned to their original locations.

The Jireh operation was funded by the Oil Spill Liability Trust Fund (OSLTF), which receives contributions through a per barrel tax paid by oil companies as well as fines levied against companies who violate the Oil Pollution Act of 1990 and other related laws.