Ferry Loses Rudder After Running Aground in Maine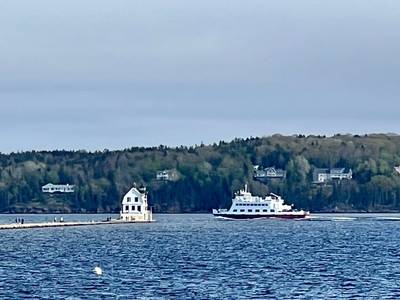 A Maine State Ferry Service vessel was damaged after running aground off the coast of Vinalhaven on August 16.
The car and passenger ferry Captain Richard G. Spear was pulling away from Vinalhaven to start a trip to Rockland shortly after 10:30 a.m. when it grounded. There were 65 passengers and five crew members on board at the time of the incident. No injuries were reported.
MaineDOT, which runs the MSFS, said its employee who was captaining the ferry at the time of the incident is a longtime team member who has experience making the run between Rockland and Vinalhaven.
The agency said it is cooperating with the U.S. Coast Guard's investigation into the cause of the incident.
After the grounding, the vessel returned to Vinalhaven to unload passengers and was then taken to Rockland Marine Corporation shipyard to be inspected.
An initial inspection confirmed that the hull was not significantly damaged. However, both of the vessel's propellers are damaged, the starboard rudder is bent, and the port rudder is missing. This missing rudder may be retrievable by divers given the location of the grounding, the DOT said.
The DOT said it does not yet have an estimated cost of repair or timeline for the ferry's return to service. The vessel, which was already scheduled to be taken out of service next week for a routine USCG inspection, will remain at the shipyard for repairs.
The 154-foot-long, 38-foot-wide Captain Richard G. Spear is one of the service's larger vessels, with capacity for up to 250 passengers and 23 cars. It was built at the Washburn & Doughty shipyard in East Boothbay, Maine and entered service in 2022.
The operator will use other vessels, including the Everett Libby, Captain E. Frank Thompson and Captain Charles Philbrook, to carry out the scheduled 15-mile sailings between Rockland and Vinalhaven while the Captain Richard G. Spear is out of service.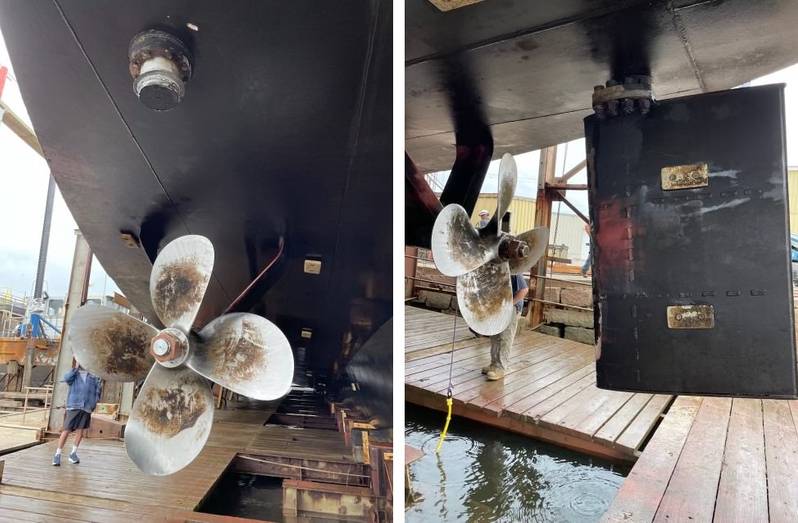 An initial inspection confirmed that the hull was not significantly damaged. However, both of the vessel's propellers are damaged, the starboard rudder is bent, and the port rudder is missing. (Photos: MaineDOT)