Fighting Semi-Submersible Threat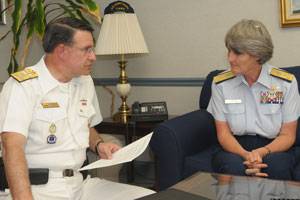 Colombian Naval Forces Commander, Adm. Guillermo Enrique Barrera Hurtado met with U.S. Coast Guard Vice Commandant, Vice Adm. Vivien Crea, during his visit to Coast Guard Headquarters July 16.

Among topics of discussion was a law passed in Colombia July 9 that makes all persons who finance, construct, store, commercialize, transport, procure or use semi-submersibles or submersibles with illicit intent, susceptible to fines between approximately $246,340 and $17,243,800 and incarceration from six to 14 years.

"This law reflects Colombia's commitment to help stem the flow of illegal narcotics," said Barrera. "Having a law that parallels one in the U.S. is a natural extension of our combined resolve to stop drug smugglers."

The Colombian law parallels a U.S. law passed in 2008 that makes it illegal to operate a stateless, self-propelled, semi-submersible vessel. The two laws provide an additional deterrent and means of prosecution for those attempting to smuggle drugs.

"The passage of this SPSS law in Colombia is another excellent example of our invaluable partnership," said Crea. "Stateless, self-propelled, semi-submersible vessels have no legitimate purpose and criminalizing their operation provides another legal tool to prosecute drug smugglers and reduce the risks to our law-enforcement officers on the high seas."