COSCO Updated Q3 2013 Financial Report Remains Cheerless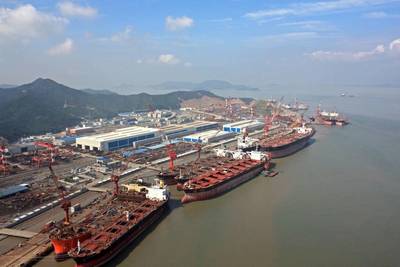 COSCO Corp. (Singapore) has re-issued its unaudited Third Quarter Financial Statement for the financial period ended 30, September 2013, as follows:

Overall, net profit attributable to equity holders of the Company decreased 84.1% from $26.6 million in Q3 2012 to $4.2 million in Q3 2013 mainly due to lower contributions from dry bulk shipping and shipyard operations.

Group turnover inched up 5.6% to $989.4 million in Q3 2013 from $937.0 million in Q3 2012 owing to increases in shipyard revenue, but gross profit decreased 36.4% from $115.1 million in Q3 2012 to $73.2 million in Q3 2013 mainly due to higher inventory write-downs and provisions for expected losses recognized on construction contracts which resulted in lower profit contributions from ship building and marine engineering segments.

Turnover from shipyard operations increased marginally by 5.7% to $976.0 million in Q3 2013 from $923.5 million in Q3 2012 mainly due to growth in revenue from marine engineering segment which more than offset the lower revenue contribution from ship building & ship repair segments.

Outlook
As the Group continues construction in the rest of 2013 on new ship building contracts that were secured since 2010 at low contract values due to the slumping shipping market then, the Group expects operating margins on these new shipbuilding projects to continue to be under great pressure notwithstanding improving gains in efficiency and productivity.