Fincantieri Delivers MSC Seaview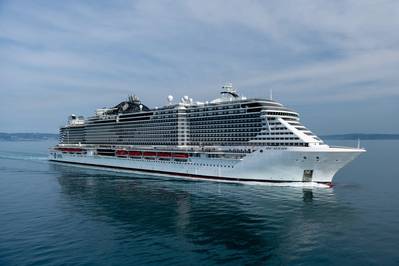 Italian shipbuilder Fincantieri delivered the newly constructed cruise ship MSC Seaview to owner MSC Cruises during a ceremony Monday in Monfalcone.
Following fresh on the heels of sister ship MSC Seaside delivered last November, MSC Seaview is the second ship to be built by Fincantieri for MSC Cruises in six months.
With a gross tonnage of over 153,000 tons and a length of 323 meters, MSC Seaview is the largest and most technologically advanced ship ever to be designed and built in Italy, the shipbuilder said.
Giuseppe Bono, CEO of Fincantieri, said, "We will remember MSC Seaview, without doubt, as an authentic undertaking. Just six months ago, in fact, we celebrated in this same yard the delivery of the largest ship ever built in Italy, MSC Seaside, a revolutionary prototype. Today we are repeating this success with her sister ship."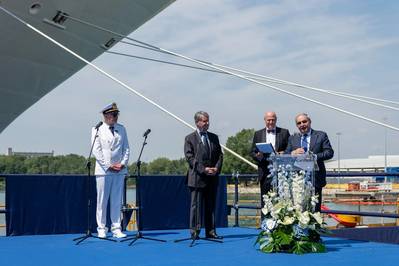 Fincantieri CEO, Giuseppe Bono, speaks during the delivery ceremony for MSC Seaview (Photo: Fincantieri)
According to Fincantieri, MSC Seaview complies with the highest international environmental standards and will also receive from international classification society RINA – in addition to the main Class notations – its "Green Star 3 Design" notation in recognition of the attention that was paid to these aspects during the design and construction of the ship. RINA's Green Star 3 – the latest and most comprehensive edition of the RINA's Green STAR additional class notations – specifically recognizes that MSC Seaview reaches the greatest levels of eco-compatibility thanks to the relevance of the various innovative measures put in place which help reduce the environmental footprint during operations. These include, among others, the exhaust gas cleaning system, the advanced waste water treatment, systems for the prevention of oil discharge from machinery spaces, the ballast water treatment system, and the ship's Environmental Management Plan.
"This is an amazing performance, that we are extremely proud of, carried out thanks to the technical and managerial skills, which made us great and acknowledged as such in the world and which allows us to look to the future with renewed confidence," Bono said.
MSC Seaview will set sail for Genoa where her christening will take place on June 9.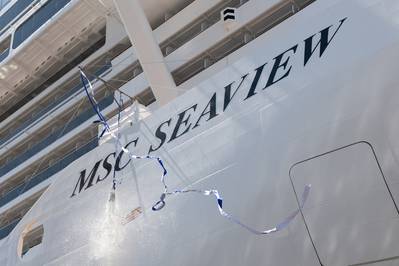 (Photo: Fincantieri)