Fincantieri Offshore Chooses AVEVA Software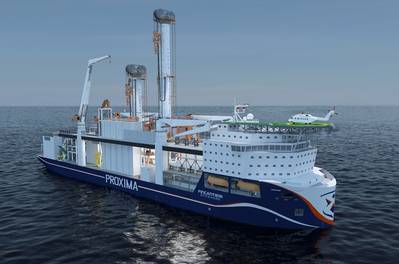 One of the world's largest shipbuilders uses AVEVA software to design next-generation drillship.
Fincantieri Offshore has signed a contract with AVEVA to implement AVEVA Marine software in the concept design phase of Proxima, a major offshore drillship project. Proxima is a revolutionary design with an innovative drilling system that significantly increases the speed of the drilling process. It can therefore be a powerful tool for drilling contractors to boost their profitability, not only by drilling more efficiently, but also by drilling wells that were not previously possible. Fincantieri Offshore is using several AVEVA Marine products for this project.

"We are very impressed with AVEVA's technology and customer service," said Giuseppe Coronella, Vice President, Offshore, Fincantieri. "For a ground-breaking project like Proxima we need to have a leading-edge solution that is reliable and efficient, and AVEVA Marine has equipped us with the right tools to execute this innovative design."

"We are delighted that Fincantieri Offshore chose AVEVA software for the concept design of this exciting and innovative project," said Evgeny Fedotov, Head of EPC Sales, AVEVA. "It has been developed using AVEVA Marine solutions, which can support all of Fincantieri Offshore's design disciplines and which has proved its capabilities to optimise integration between the hull and the drilling systems. Fincantieri has a very creative and skilled team and we look forward to working with them on other such revolutionary projects in the future."