Finnlines to Lengthen Two More Vessels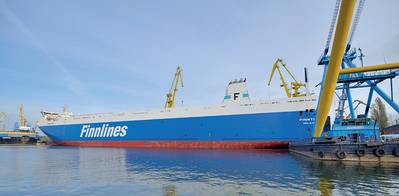 Finnlines has opted to lengthen two additional vessels as part of its €70 million ($86 million) Energy Efficiency and Emission Reduction Investment Program launched in 2017, the company said today.
The first two vessels, MS Finntide and MS Finnwave, have already returned to operation after lengthening, and a further two vessels, MS Finnsky and MS Finnsun, will be lengthened by the end of May 2018.
With the newly exercised option, work to lengthen MS Finnbreeze and MS Finnsea will be carried out from September to December 2018.
"These two lengthened vessels in addition to the previous four, will help us meet increased demand and enable us to serve our customers more efficiently," said Tom Pippingsköld, CFO of
Finnlines
.
According to Finnlines, each lengthened vessel will be 217.7 meters long with capacity of around 4,200 lane meters, an increase of about 30 percent.
"One of our strategic decisions is to focus on improving our operational performance," Pippingsköld added. "This decision to lengthen another two vessels will help us to increase competitiveness and improve efficiency of capital employed on our fleet."
"This investment is also in line with sustainable development: by increasing our
energy efficiency further
we will contribute to reducing emissions per transported ton," Pippingsköld said.