Finnlines Names New RoPax Finnsirius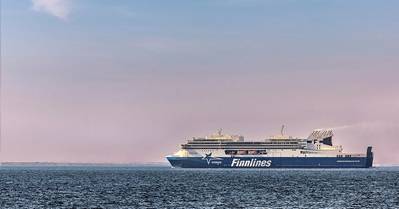 Finnlines on Wednesday held a naming ceremony in Naantali for its first of two new freight-passenger Superstar vessels, Finnsirius.
The new ro-pax vessel, part of Finnlines €500-million Green Investment Program, was built by China Merchants Jinling Shipyard in Weihai, China.
"Finnsirius is Finnlines' new eco-efficient flagship, designed specifically for the fast-paced freight transport route between Finland and Sweden. At the same time, Finnsirius offers upgraded services and more travel comfort than the previous generation of ro-pax vessels. Freight is Finnlines' core business, but it is a genuine pleasure to introduce our new service concept to our passengers," said Antonio Raimo, line manager at Finnlines.
Finnsirius will enter Finnlines' Finland–Sweden (Naantali–Långnäs–Kapellskär) line and the maiden voyage sets off from Naantali on September 15, 2023. Sister vessel Finncanopus is expected to join Finnsirius on the same route next year when a smaller ro-pax, Finnswan, will transfer to another Finnlines service.
Finnlines Green Investment Program comprises both ro-pax and ro-ro vessels. Three new hybrid ro-ro vessels started operating in summer 2022 and Finnsirius is the first of two Superstar ro-pax vessels that are the largest in the Finnlines fleet, with a cargo capacity of 5,200 lane meters and passenger capacity of 1,100.
"Finnlines has been one of the most important companies, a trustworthy pillar within Finnish' imports and exports, which was celebrated today at the naming ceremony. While executing out our Green Investment Program, we have taken a giant leap forward and can now offer more efficient and environmentally friendly solutions to freight customers and private passengers. We are proud to continue being the main carrier of Finland's imports and exports and emergency supplies for many years to come," says Tom Pippingsköld, president and CEO of Finnlines.
Finnsirius
Type of vessel: freight-passenger / Ro-pax
Ice class: 1 A Super
Length, overall: 235.6 m
Breadth, molded: 33.3 m
Gross tonnage: 65,692
Deadweight: 11,980
Lane meters: 5,200
Design speed: 16.3 / 21 knots
Engine output: 4 x 7,200 kW
Flag: Finland
Passengers: 1,100
Passenger cabins: 323
Route: Finland–Åland Island–Sweden (Naantali–Långnäs–Kapellskär)
Emission reduction technology:
Air lubrication
Battery pack
Exhaust gas abatement
Onshore power
Auto-mooring
Waste heat recovery
Ballast water treatment