Fire Breaks Out Aboard 80-year-old Great Lakes Freighter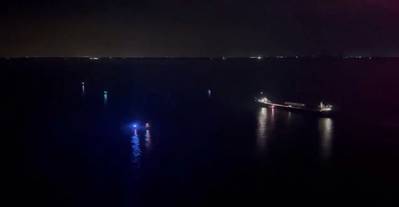 A fire broke out aboard a Canadian-registered bulk carrier transiting on Lake Erie near Pelee Island in the overnight hours on Tuesday, the U.S. Coast Guard said.
The fire, which originated in the engine room of the 80-year-old laker Cuyahoga, is said to have been contained, with no injuries reported.
U.S. Coast Guard Air Station Detroit, Ohio Department of Natural Resources, TowBoatUS and the Canadian Coast Guard responded the incident.
The 664-foot-long self discharging bulk carrier is operated by Lower Lakes Towing, a subsidiary of Rand Logistics, and is used for transporting stone, iron ore, coal and other bulk commodities on the Great Lakes.
Built in 1943 as the J. Burton Ayers, the vessel is the second oldest Canadian registered laker still in active service on the Great Lakes.