Fire on Deepwater Horizon in GOM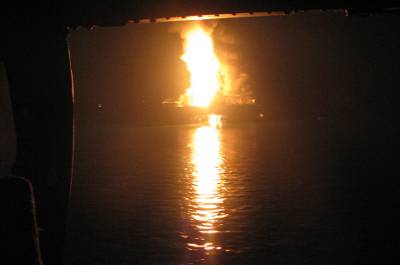 In the photo, a Coast Guard MH-65C dolphin rescue helicopter and crew document the fire aboard the mobile offshore drilling unit Deepwater Horizon, while searching for survivors April 21, 2010. Multiple Coast Guard helicopters, planes and cutters responded to rescue the Deepwater Horizon's 126 person crew.

Transocean Ltd. reported the fire onboard its semisubmersible drilling rig Deepwater Horizon, which occurred April 20, 2010 at approximately 10:00 p.m. central time in the United States Gulf of Mexico. The rig was located approximately 41 miles offshore Louisiana on Mississippi Canyon block 252.

An April 20 report from AFP said rescuers were searching in the Gulf of Mexico for 11 or 12 workers who went missing during the oil rig explosion.