Fire-damaged Sub 'USS Miami' US$450 Repair Cost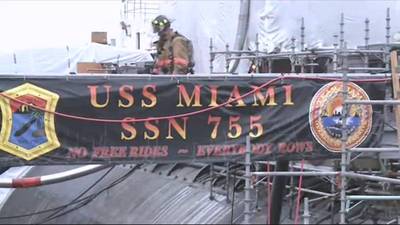 'USS Miami', heavily damaged by an arsonist in May, will cost US$450 to fix, put back into service.

The figure is about $50 million higher than the initial repair estimates, and the service admits it could change as much as an additional $45 million, or 10 percent, reports 'Navy Times'.

The fire heavily damaged or destroyed the submarine's control room, combat systems and torpedo room.

Casey James Fury, a civilian worker at the shipyard, is accused of setting the fire and of lighting a smaller fire outside the submarine on June 16. He remains in jail, awaiting trial.

Two investigations into the fire continue, and investigators are to issue their reports in September.

The 22-year-old Miami was, at the time of the fire, about two months into a planned 20-month overhaul at the shipyard. The Navy had planned to decommission the boat in 2020 after 30 years of service, but if the fire repairs are completed at the end of April 2015, it is expected to serve another decade, or enough for five full-length deployments.

Funding for the repairs is to come in several increments. The service is asking to reprogram $100 million to begin planning work, and is asking for $150 million in the 2013 budget.

The Navy official statement adds: "The Navy expects to award an advanced planning contract in September to support engineering efforts to guide the accomplishment of repairs and procure repair material, followed by the repair contract in late spring 2013.

"Since June, the Navy has continued its engineered overhaul work in areas unaffected by the May 23 fire; cleaning and ripping out areas affected by fire and water damage; completing the technical assessment of the damage; developing a strategy for completing repair; and refining the cost estimate.