Mojaweb, RAstar 3900 Fire-Fighting Tug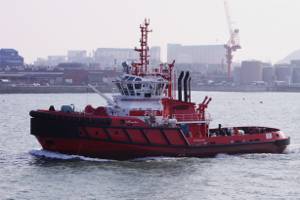 When is a fireboat a tug? When is a tug a fireboat? The fitting of fire-fighting capacity on harbour tugs is very common, but typically those installations are limited to up to the capacity of the Class Society Fi-Fi 1 designations with a total pump capacity of 2,400 m3/hour. However when an Owner requires a major terminal support tug with significant towing and ship-handling capabilities, AND a Fire-Fighting II capability of 8,400 m3/hour, the result is an exciting combination of the best attributes of both vessel types. Robert Allan Ltd. is internationally recognized for the many unique high-performance tugboats built to its designs, and is also gaining a worldwide reputation for significant major fireboats. With this background Robert Allan Ltd. was an easy choice for Kuwait Fire Services to make for the development of a new design for a major fire-fighting tug for operation in the Kuwait Port of Shuwaikh.
The contract for design and construction of the new vessel was awarded to the trading company Al Boom Marine of Kuwait, who retained Robert Allan Ltd. to develop the design, and then awarded the construction contract to Simulation Tech Inc. (STI) of South Korea. The new vessel, named Mojaweb was delivered in early March 2011, and is currently sailing under its own power from Korea to the Middle East. Due to a requirement for continuous operation in the significant sea states of the Arabian Gulf, the choice of the well-regarded RAstar hull form for this project was an easy one. The RAstar family of tug designs represents a truly unique and significant development in offshore tug design. The hull form incorporates a significant outward flare (or sponson) on the upper hull sides. This trade-marked concept was developed by and is unique to tugs designed by Robert Allan Ltd. When the tug is heeled over under influence of the towline during an escort operation, the sponson is submerged and a large righting force is generated to improve the stability, thus increasing the available towline force. In addition, the hull has a large extended skeg, also designed to provide increased roll-damping. This design approach is far superior to simply making a tug "fatter" on the waterline, and results in better fuel economy in all aspects of operation.
The RAstar hull form also provides dramatic reductions in roll amplitude and roll accelerations compared to old-style, wall-sided tug hull forms, and thus provides a much safer and more comfortable platform for the crew. This type of performance was one of the stated objectives of the international SAFETUG JIP in which Robert Allan Ltd. were an active participant, and theRAstar hull form demonstrates superior performance to any concepts evaluated during that project. Extensive private model tests indicate that the roll accelerations of a RAstar hull are about 60% lower than in a typical hull form of the same overall dimensions and displacement.
The principal particulars of this new RAstar 3900 Class fire-fighting tug are as follows:
• Length overall
-
39.10 metres
• Beam, moulded
-
13.50
metres
• Depth, moulded
-
6.11
metres
• Maximum operating draft
-
5.05
metres
Capacities are as follows:
• Fire-fighting foam
-
38
m3
• Water ballast
-
67.8
m3
The Mojaweb, although equipped primarily as a fireboat, is also equipped for typical tanker support and ship-handling work, with a hawser winch on the fore deck, and a 75 tonne SWL towhook aft. The accommodation is arranged for an operating crew of up to 14 persons, with a berthed crew of nine, but it also has the capability to accommodate survivors and/or additional fire-fighters. The spacious officer's cabin is located on the upper deck, with private en suite facilities. Two additional four-man crew cabins are located on the lower deck, served by a common lavatory facility. A compact but fully equipped galley serves a large common mess area on the main deck, the latter also doubling as a conference/meeting room/command centre.
The wheelhouse is designed to provide maximum all-round visibility from a single split type master console forward, and a fire-fighting console aft.
The Mojaweb was built in accordance with Lloyd's Register of Shipping notation:
- X 100 A1 Escort Tug, Fire-Fighting Ship 2 (8,400 m3/hour), with Waterspray
The propulsion machinery consists of a pair of Wärtsilä 6L26 medium-speed diesel engines, each rated 1,946 kW at 1,000 rpm. These each drive a Wärtsilä-Lips CS250-CP Z-drive unit, with a 2,400 mm diameter propeller.
The Fi-Fi II Fire-fighting capability is provided by a centre independent pump engine, Wärtsilä 8L26 diesel, rated 2,590 kW at 1,000 rpm driving two pumps, each rated at 2,400 m3 per hour, and a pair of 1,800 m3 per hour main engine-driven pumps.
Auxiliary power is provided by a pair of CAT C-18 diesel gensets, each rated 275 ekW.
The Mojaweb was designed to meet the following requirements:
• Bollard Pull, ahead
= 60 tonnes, minimum
• Free running speed, ahead
= 12 knots, minimum (and easily exceeded those objectives on trials)