SeaArk Fire/Rescue Boat for Wilder Fire Department, KY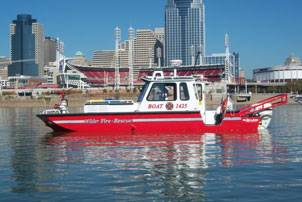 SeaArk Marine, Inc. has delivered a 26-ft Utility Series (Little Giant) all-welded aluminum fire/rescue boat to the Wilder, KY Fire Department. The boat features a heavy duty "cathedral" multi-vee hull that produces a fast, smooth, dry ride and provides a stable fire fighting platform. These characteristics were high priority items required by the Wilder Fire Department in order to meet required fast response times and capability for all-weather fire fighting and maneuvering requirements.

The boat is tasked for fire/rescue missions on the Licking River and surrounding waters. To facilitate quick response times in getting on scene, twin 175 horse power Evinrude, E-TEC outboard engines mounted on an integrated motor mounting platform and surrounded by a heavy-duty outboard protection bar were selected for the Wilder Fire Department boat.

For rescue calls, a dive door is located on the port quarter and is wide enough to retrieve a victim on a backboard aboard the vessel and out of the water. This door is also used by divers entering the water for evidence and other retrieval operations.

For fire calls, a Hale 750 gpm pump at 150 psi connected to a Marine Power, S4.3L, V-6 engine is installed forward of the cabin (partially below the main deck) covered by an aluminum housing. Hinged doors provide easy access to the fire pump assembly. Suction for the fire pump is through a 4" hard piped suction line connected to a thru-hull sea chest. Discharge hard piping is provided from the pump to a manual monitor mounted on the foredeck. Two 1-1/2" hose connections are located aft and two 1-1/2" hose connections are located in the monitor standpipe for hand line use. The control panel with gauges for the fire system is located in the port side dash inside the cabin. A Vernier type throttle control is installed in the panel. A 25 gallon Darley around-the-pump foam system is also included. An easy-access, full-width transom locker houses the batteries, battery selector switch, and VRO tanks.

The boat is also outfitted with a Raymarine 25nm radar, 125GPS/WAAS, Fathometer, siren/pa system, Whelen light bar, four floodlights, two remote operated search lights, docking lights, cabin ventilation fans and a 4 man cabin with interior red/white lighting. Adjacent to the dive door, safety/rescue rails are provided to facilitate re-boarding the boat.