First ecHo Yacht from Monte Fino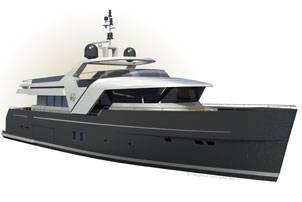 Kha Shing, Taiwan builder of luxury yachts, has begun building the first of its newest model in its Monte Fino range, designated hull 84/6. The ecHo is an 85-ft motor yacht, and its name derives from being ecologically friendly as well as the result of a partnership with Humphreys Yacht Design.

The Monte Fino ecHo is a completely new design based on the principals of energy efficiency, minimal emissions and the philosophy that the act of travelling on board should be as much a pleasure as arriving at the destination.

If her styling is reminiscent of an explorer‐type yacht that is because her range and capabilities will undoubtedly encourage owners to expand their cruising horizons. Her hull shape came out of an extensive development program by Humphreys Yacht Design that included tank testing at the world famous Wolfson Unit at the University of Southampton in the UK. The result is a fine entry at the bow and a hull form that offers minimal resistance to the water and excellent sea‐keeping characteristics. The streamlining is further enhanced by the enclosure of the propeller shafts in tunnels and positioning them at an angle of just 2 degrees to the horizontal.

The ecHo is being built from GRP, but the engineering specification is such that surplus weight has been eliminated wherever possible from the design without any compromise in strength or structural integrity, again to maximise her energy efficiency.

Other features will depend on the requirements of individual owners, but ZF joystick maneuvering will be offered as a standard feature; linking shafts, thrusters and GPS to allow precise station holding without anchoring; very useful when needing to hold position in a sensitive marine environment or restricted harbor. Owners wishing to burnish their green credentials can further select a full package that includes upgrading to a hybrid engine system with electric propulsion / generator units, frequency converters, battery chargers, lithium batteries, fresh water cooling and a full battery management system. Grey‐water recycling and waste compaction equipment have also been allowed for in the design, along with high‐quality insulation for the hull and superstructure to minimize the energy requirements for both heating and air conditioning.

As a result the Monte Fino ecHo qualifies for RINA Green Plus certification. This voluntary notation is based on an environmental performance index which covers all aspects of a vessel's impact on the environment. It is granted to new vessels which make a significant investment in design solutions, onboard equipment, and operational procedures which contribute to an improvement in environmental performance beyond the minimum levels required by international regulations As regards her performance, as would be expected the emphasis is on efficiency rather than top speed. With the designated MAN R800 motors the maximum speed will be 15 knots from the full displacement hull. However at only 1400rpm the speed will be 11.5 knots and consumption of the two motors together with the two generators at 50% load at that speed will be just 42 litres per hour, giving a range of 1,870 nautical miles. Reducing the revs still further to a cruising speed of nine knots brings the consumption of motors and generators down to only 20 litres per hour and will extend the range to 2,776 nautical miles.

The accommodation on the lower deck is across two double and two twin cabins in the forward section of the yacht, and there are quarters for three crew members aft of the engine room. The upper and top decks have all the amenities needed for relaxation and entertainment. Hull 84/6 will be ready for her owner in the summer of 2011.