Intellian FleetBroadband Terminals for 38 Containerships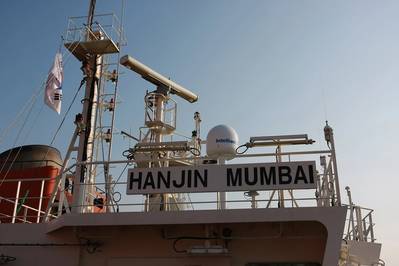 Intellian has won the contract to supply Hanjin Shipping of South Korea, with FleetBroadband FB500 terminals for a fleet of 38 container ships.

The installation process has already commenced and will be completed by Intellian over the coming months as the ships arrive into port.

The FB500 is the largest of Intellian's FleetBroadband product range and provides the fastest and most cost-effective FleetBroadband service available. It is designed specifically for intensive use onboard merchant and offshore vessels using Inmarsat's I4 satellite, global broadband coverage.

The FB500s will replace Hanjin Shipping's current F77 systems, significantly reducing their ship communications costs. Hanjin Shipping was also attracted to Intellian's industry leading Three-year warranty which provides the company with confidence and trouble free operation over an extended period.

Eric Sung, President and CEO of Intellian commented, "This is a significant order for us from one of the world's leading commercial shipping operators and confirms our place as the technology leader in satellite communications. Our FleetBroadband products are some of the most advanced, reliable and cost effective systems available and we are seeing a significant increase in our market share in this sector. We look forward to a strong relationship with Hanjin Shipping over future years and continuing success of our FleetBroadband products."

Intellian's FB500 system provides a simultaneous voice and data service. The terminal has an IP handset interface and an IP connection for e-mail, internet and intranet access including a secure VPN. The FB500 achieves data rates of up to 432kbps with up to 256 kbps for streaming IP on a competitive and customized Inmarsat service.

Intellian has developed its Fleetbroadband systems to be exceptionally robust and to provide reliable and secure communications for ships which spend long periods at sea operating globally. The FB500 will keep the ships in touch with their control center in addition to keeping the crew connected with home wherever the ships are operating around the world.