FleetPlan Helps Generate Cost Savings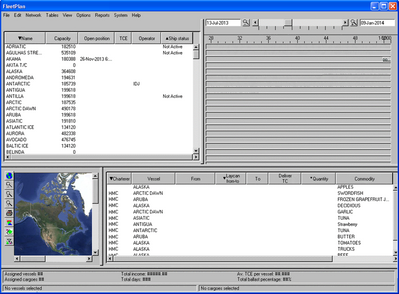 Fleet management solutions are designed to help cut costs associated with maintaining vessels by streamlining your workflow. FleetPlan manages risk, warranties and supports facility management. HMC's FleetPlan optimizes fleet planning to reduce downtime.

The current competitive market demands efficient operation at all times and rapidly develops to a stage of management science integrated within the business activities. Companies may require integrated fleet management processes and support systems which is a highly challenging task for shipping operators as they often rely on numerous proprietary applications.

The goal of HMC's FleetPlan is to generate an optimized Fleet schedule on a daily basis, which displays a horizon up to several months to be specified by the user for each commodity and ship type. The database of FleetPlan can store a broad range of ships, cargo data and is compatible with data from other systems using our import module.

The program has the possibility to keep several types of information on vessels and cargoes. This information can be used to schedule vessels by hand and cargoes can be planned on a vessel using drag-and-drop functionality. A mathematical model is used to generate schedules automatically and daily positions of the vessels can be communicated via the satellite communication module. These daily positions of the vessels improve the schedule which is generated by the user or the system. The database of FleetPlan can easily be adjusted to user's requirements and can save and reload previous generated schedules so that they are comparable to the earlier voyage plans.

Management Science
Management Science is a combination of statistics, operation research and mathematics. HMC specializes in Management Science and Information and Communication Technology Application for the maritime Industry. Case studies proved that considerable cost savings can be obtained using these applications. General conclusion is that variable costs can be reduced by as much as 20%.

Savings using planning systems
From comparing operations with and without using HMC applications it has been concluded that considerable savings on operational costs have been realized, e.g.:

The STAP system, fleetplanning system for strategic planning, installed at the Dutch Government resulted in 10% savings on operational costs fleetwide.

SHIPPL, fleetplanning system for trampers for tactical planning, resulted in 10% savings on operational cost fleetwide.

CLUSTER & ROUTE, fleetplanning system for suppliers, resulted in 10 to 20% savings on operational costs.

HMC's CLUSTER & ROUTE system in comparison with a scheduling system in the US Gulf resulted in 30% lower costs for offshore supply.

Savings using inventory control and planned maintenance

Below are results of a Tanker Fleet Case Study:

Inventory
Realised annual savings on spare parts totalling in excess of $ 250,000 per ship by using FleetWorks minimum – maximum spare levels, by consolidating freight and by purchasing common parts in bulk. Further savings are being achieved by contracting for future spares based on expected preventive maintenance routines and storing in warehouse.

Preventive Maintenance
Reduced annual maintenance costs about $75,000 per ship. Savings were also realized in casualty repairs and reduced downtime. Fleet has not had a critical breakdown in over two years. Time between overhauls was lengthened to reduce total maintenance and repair cost. The value of downtime prevented runs at least $100,000 per ship per day.

Regulatory Compliance
By documenting through use of system auditable trials of work procedures, work history, safety measures and various overhauls, numerous standard class society inspections were met. This prevented lengthy port stays and expensive inspection costs for opening up systems. The procedures also provided the backbone of the fleets ISO/ISM requirements and lowered insurance costs.

Underwater survey replaced two-year hull inspection in dry dock. Divers documented conditions of steel, sea valves, etc. and logged in system with supporting photographic evidence. This saved in excess of $5 million per ship.