New LED Floodlight from Hella Marine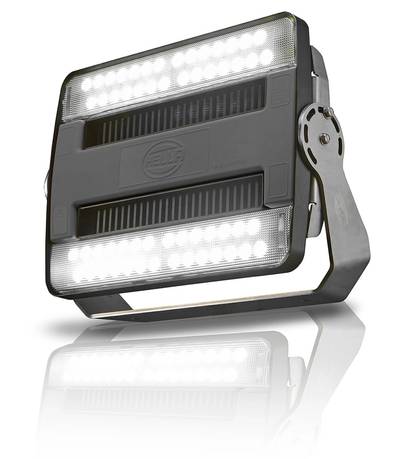 Heavy-duty and commercial vessels demand durable lighting capable of withstanding punishing conditions. The new HypaLUME LED floodlight from Hella marine is specifically designed to meet the rigors of any marine work environment.

The most powerful floodlight ever offered by Hella, high performance HypaLUME also delivers class-leading energy efficiency. While comparable to a 400 W metal halide fitting in light output, it only consumes a mere 240W (10 amps at 24V).

Designed for heavy-duty and commercial vessels, Hella equips its HypaLUME floodlight with a Grilamid lens. Made from an advanced polyamide material, Grilamid imparts exceptional resistance to impact, fatigue, UV rays and harsh chemicals.

HypaLUME's wide-reaching beam pattern offers a color temperature of 5700K. This crisp white light, similar to daylight, helps maintain high productivity by preventing the fatigue and eye strain common with warmer-colored halogen lighting.

Engineered inside and out for long life, HypaLUME has a completely sealed IP6K9K heat-sink housing, featuring a die-cast aluminum body. Its bonded non-stick coating resists moisture and remains free of corrosion, discoloration, peeling and flaking.

This unit provides dependable service even in intense heat or cold weather. In tests, the floodlight showed no decrease in output even when operating in temperatures from -40º F to 120º F.

The HypaLUME is held in place with an ultra heavy-duty 316 stainless steel bracket for completely secure installation. Vibration- and impact-proof, the bracket also allows for vertical angle adjustment and is pre-wired with over 5' of twin core marine cable for easy installation.

Measuring approximately 20" W x 15" H x 6-1/2" D, the Multivolt 18-52V DC floodlight weighs just over 29 lbs. including cable and bracket. It offers EMC protection of CISPR25 Class 2, ISO 13766:2006, a shock rating of 200G and vibration rating of 750Hz at 1/8". All Hella HypaLUME lamps carry a five-year warranty.

Hella marine's HypaLUME has a retail price range of $3,400-3,800.